If you've ever had to buy carry-on luggage you have stood in store, eyed the the small roller bag up and down, trying to decided if it will come under airline regulations. Once you have taken a good chunk of time deciding if it will fit or not, you purchase and take it home to start packing. The process of eyeing the bag up and down goes on until you weigh it and re-pack it hoping that you won't be hit with an oversize fee. You line up at the check-in, looking at other peoples' luggage and slowly make your way to the front of the line. If you make the cut and get your bag within the regulations or not, chances are you have still gone through an unnecessary and painful process to get to the point of boarding the plane.
Royal Dutch Airlines (KLM) have eliminated this process by using a very practical augmented reality feature within an update to the iOS app.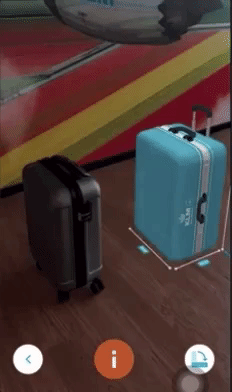 (SOURCE: https://mobile-ar.reality.news/news/klm-packs-ar-suitcase-into-iphone-app-help-passengers-check-luggage-0187097/)
As you can see in the image above, you place your luggage within the frame of your camera and an augmented KLM bag floats on top of it. If your luggage fits inside the KLM bag, you have successfully chosen the correct carry on luggage. If not, you better hope "Rolling Luggage" isn't too far away.